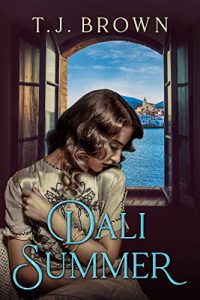 About Dali Summer
• Paperback:
344 pages
• Publisher:
Tule Publishing Group, LLC (May 5, 2020)
Her wild and vivid visions inspire an icon...
Nothing is more important to prim, colorblind Dolors Posa than family and living down the shame of her illegitimate birth, but when the sudden onset of fantastical visions threaten her sterling reputation, she must search for answers before the inhabitants of the tiny village of Cadaqués brand her as demente-- crazy like her mother. In a quest to stop her hallucinations, she befriends a beautiful, intoxicating fortune teller and her handsome anarchist brother, as well as becoming a reluctant muse for thirteen-year-old Salvador Dali. In a summer that changes everything, Dolors must choose between her family's reputation and a life filled with adventure, friendship, rapturous color and the possibility of love.
Set against the political upheaval of 1917 Spain, Dali Summer captures the fierce spirit of Catalonia, the generosity and stubbornness of its people and the blossoming promise of a woman who thought life was bland and empty and had long ago had passed her by.
THOUGHTS/REVIEW:
First of all, I have to admire the beautiful cover of this book, that brings me to imagine a glimpse of life in the summer of 1917 in the warmth of the Spanish sun where drama, intrigue, gossips, family and political turmoil abound.
I found this to be a quick and nice escape read just like a summer fling. It was fun getting to know the characters and even a very young Salvador Dali in his teens as he is discovering his talents with the help of our lovely protagonist.
I thought that this book had a lot of heart that addressed our relationships with our family, the societal norms of the time, religiosity, and all matters of the heart. This was truly an enjoyable read.

Purchase Links

About T. J. Brown
Well behaved women rarely make history. Teri Brown lived that quote way before she ever even heard it. The two things she is most proud of, (besides her children), is that she jumped out of an airplane once and she beat the original Legend of Zelda video game. She is a novel writer, head banger, pet keeper, math hater, cocktail drinker, booty shaker, book reader, city slicker, food fixer, French kisser, rule breaker, wine sipper and word scribbler. She loves her husband, kitties and chocolate.
Find out more about Teri at her
website
, and connect with her on
Facebook
and
Twitter
.