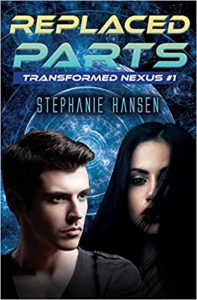 About Replaced Parts
• Paperback
: 240 Pages
• Publisher
: Fire & Ice Young Adult Books (January 5, 2021) In the year 2163 a corrupt World Government controls everything on our planet and beyond. Sixteen year-old Sierra has been so caught up in her own world of saving animal test subjects and her father's disappearance, she hasn't paid much attention. When she finally finds his location, she and her friend set off on a covert interplanetary mission to rescue him, she begins to see the corruption first hand. Discovering that her father has been on the front lines secretly trying to save human test subjects inspires her to join a revolution. But she is afraid of the collateral damage of hurting the people she loves. Will she find the strength to make a deal with the mad scientist Cromwell to save not just her friends and family but everyone?

Purchase Links


My Review:
Replaced Parts by Stephanie Hansen was a wonderful young adult science fiction novel that was bingeable and fun to read. this story transports us to the year 2163 and our protagonist Sierra a 16 yo and the other cast of characters were incredibly fun to read about. Sierra is a wonderful and brilliant young woman who I feel is such a great example for young adults for her passion in science, works in genetics, and even saving animals - she is haunted by the fact that her father has left her and her mother. As she continues to search for him, she realizes that her father did not leave them but was in fact taken, and the corrupt World Government may be behind his disappearance.
The pacing was fantastic and really kept me on the edge of my seat. I loved the characters and the side characters as well that really brought the story to life and made it highly entertaining to read. Overall, I thought that the plot and pacing was fantastic and this is a fun science fiction book that I highly recommend for being very well written that is also highly entertaining.

About Stephanie Hansen
Stephanie Hansen is a PenCraft Award Winning Author. Her short story, Break Time, and poetry has been featured in Mind's Eye literary magazine. The Kansas Writers Association published her short story, Existing Forces, appointing her as a noted author. She has held a deep passion for writing since early childhood, but a brush with death caused her to allow it to grow. She's part of an SCBWI critique group in Lawrence, KS and two local book clubs. She attends many writers' conferences including the Writing Day Workshops, New York Pitch, Penned Con, New Letters, All Write Now, Show Me Writers Master Class, BEA, and Nebraska Writers Guild conference as well as Book Fairs and Comic-Cons. She is a member of the deaf and hard of hearing community. Find out more about her at her
website
, and follow her on
Facebook
,
Instagram
,
Twitter
, and
Pinterest
.