Paperback: 416 Pages

Publisher: MIRA; Original edition (May 25, 2021)
Once upon a time, when her dad married Sage's mom, Daisy was thrilled to get a bright and shiny new sister. But Sage was beautiful and popular, everything Daisy was not, and she made sure Daisy knew it.
Sage didn't have Daisy's smarts—she had to go back a grade to enroll in the fancy rich-kid school. So she used her popularity as a weapon, putting Daisy down to elevate herself. After the divorce, the stepsisters' rivalry continued until the final, improbable straw: Daisy married Sage's first love, and Sage fled California.
Eighteen years, two kids and one troubled marriage later, Daisy never expects—or wants—to see Sage again. But when the little sister they have in common needs them both, they put aside their differences to care for Cassidy. As long-buried truths are revealed, no one is more surprised than they when friendship blossoms.
Their fragile truce is threatened by one careless act that could have devastating consequences. They could turn their backs on each other again…or they could learn to forgive once and for all and finally become true sisters of the heart.

Purchase Links
MIRA
|
Amazon
|
Barnes & Noble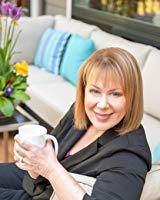 About Susan Mallery
No.1 New York Times bestselling author Susan Mallery writes heartwarming, humorous novels about the relationships that define our lives – family, friendship, romance. She's known for putting nuanced characters in emotional situations that surprise readers to laughter. Beloved by millions, her books have been translated into 28 languages. Susan lives in Washington with her husband, two cats, and a small poodle with delusions of grandeur.



Connect with Susan

Website

|

Facebook

|

Twitter

|

Instagram
Please enjoy an EXCERPT from the book:
Sage supposed describing the Beverly Hills boutique where she worked as "upscale" was being redundant. In this part of town, money was required. Designers ruled, and in her store, it was all Italian, all the time.
When she'd decided to return to the States—although the word "decided" was a loose interpretation of what had hap­pened—she'd known retail was her best bet. She'd worked in exclusive boutiques in Paris, Milan and Rome. She was used to dealing with incredibly wealthy women who not only ex­pected deference and good service, but wanted someone who understood the pain of being them.
Despite being the new girl in the store, she was doing all right. There were enough walk-ins to keep her busy and the more established sales professionals had taken to passing off difficult clients to her. When that happened, Sage did her best to meet the challenge with style and cunning. Demanding bitches might not be fun, but they often had tons of money and if you tamed one, you had a loyal client for life.
Her theory was currently being tested by a thirtysomething who had come in looking for a dress for a cocktail party. So far Inocencia had rejected eight dresses. Just as thrilling, her ridiculous teacup Yorkie had peed on the rug and wouldn't stop barking.
The black-haired, blue-eyed beauty (Inocencia, not the dog) glared at her.
"You're not helping," she said, her voice rising in volume with every word. "I need something special. Why can't you get that through your thick head? Can you handle this or do I need to get someone with half a brain?"
The loathing in the words was mitigated by the fact that Inocencia was wearing nothing but a thong. She had an amaz­ing body, including perfect breasts, the product of excellent plastic surgery.
Sage considered her options. She was running out of size zero dresses for her client, but really didn't want to lose the sale. It was time to put on a show.
"It must be difficult to find something extraordinary when you already have so many lovely clothes," Sage said in English, before deliberately switching to Italian. "Sono assolutal­mente d'accordo."
Inocencia stared at her suspiciously. "What did you say?"
Sage blinked innocently, before slapping her hand over her mouth. "Oh, no!" She dropped her arm to her side. "I apolo­gize. I'm still speaking in Italian, I mean. English is obviously my first language, but I've only been back a few weeks." She smiled winningly. "I said I absolutely agree with you."
"You lived in Italy?" Inocencia asked.
"I did. I moved to Europe after high school. First I worked in Paris, then Milan and finally in Rome. It's great to be home, but there are adjustments." She laughed. "I'd forgot­ten how in LA we all drive everywhere. In Europe, everyone walks to everything. I miss that. And the history. Especially in Rome. There's a beautiful statue around every corner. Here, billboards."
Inocencia relaxed. "You worked in retail?"
"Yes. Designer boutiques. What a thrill to see the clothes created and then produced. Everything was couture. I wish I had a few of those dresses for you." She lowered her voice. "Not everyone who can afford that kind of fashion has the, ah, ability to display it as it's meant to be worn."
Inocencia shocked her by smiling. "A few of my friends try to squeeze into dresses they should not be wearing. Get your fat ass to the gym, right?"
Sage moved close and lowered her voice. "There are a cou­ple of dresses in back being held for the exclusive client list, but I think they're a little more your style. Let me see if I can shake a couple loose for you."
Inocencia bent down and picked up her dog. "We'd like that very much. Thank you, Sage."
"Of course."
Sage left the dressing room and went into the back. There were no exclusive client collections—just a few items that hadn't been put out yet. She found two she thought would work. As she grabbed them, her manager walked into the small storage space.
"I heard a part of that," Berry, the boutique manager, said in a low voice.