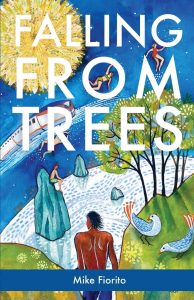 About Falling From Trees
• Publisher:

Loyola College/Apprentice House (February 9, 2021)
Exploring the possibility of sentient knowledge, FALLING FROM TREES by Mike Fiorito is a unique collection of short stories with sci-fi undertones.
Perfectly pitched and paced, they are a refreshing addition to the short story genre in the tradition of Italo Calvino, Stanislaw Lem, and Philip K. Dick. Fiorito's stories grab the reader from the very first sentence and never let go. In clear, provocative and often poetic prose, they explore love, consciousness, identity and the human condition—and succeed in elevating the commonplace to the surreal.
Fiorito invites us to interrogate our thinking. "These are not cynical tales," he writes in the book's preface. "In fact, they celebrate our potential salvation." Heartfelt, with longing and humor, Fiorito's stories are written in short bursts of other-worldly auras as they knowingly vacillate between science fiction, speculative and literary genres. A few of the stories portray quasi-realistic scenes from the lives of couples and families. Others create worlds that are strange and sad, hopeful and poignant, brilliant and mysterious. In "Climbing Time," the first story in FALLING FROM TREES, aliens reach out to individuals with Asperger's, communicating through vivid, wordless dreams. Other stories contemplate the disastrous impact of climate change. The interconnected "Pale Leviathan" and "Tomorrow's Ghost" depict the ferocity of the sun invading homes cooled with "freezing air units" and the claustrophobia of a world where children are forced to stay indoors. "The Numbers Man," "A Star in Time," and other interconnected stories follow the enigmatic alien Smith through believable yet mysterious encounters with humans in a homeless encampment, a National Park, a beach town and a bar.
While often fantastic, the twenty-one stories in FALLING FROM TREES are ultimately about our lives and the relationships that mean the most to us. "Fiorito teaches us we need not look across the universe for universal truth," writes Chad Frame, Director of the Montgomery County Poet Laureate Program. "Indeed his characters are as genuine and relatable as they are vast and mysterious. Through them, we can come to understand our place in it a little bit better."
PRAISE FOR FALLING FROM TREES
"Fiorito uses a surreal and dream style to outline his characters, children who draw alone and see "the immortality of yellow, or aliens that bring special gifts to humanity: first and foremost, the meaning of life. And so, thanks to their gifts, all of us finally "have a purpose" and "discover" that the universe is made of music." —Maria Rosa Curtrufelli, Italian author and journalist, Author of The Woman Outlaw
"The atmospheres conjured up stay with you long after reading, by turns wistful, illogical, and deeply human. A diverting book with a unique flavor." - Nikki Wyrd, Editor of the Psychedelic Press Journal "Treading the trails of futurists such as Aldous Huxley and Buckminster Fuller, Mike Fiorito envisions a utopia where there is no need for greed, hunger, or war. These extra temporal tales give an inkling of what could be if we are open to the beauty behind the stars."— Mike Cobb, Writer

MY REVIEW
Falling From Trees is an anthology of scifi reads – speculative fiction short reads easily enjoyable in an afternoon of escapism. This is a book where you can let your imaginations run wild and in a unique exploration of imaginings be able to transport yourself into the other worldly realms of aliens and communication through music and dreams in an Asperger's point of view, to evocative alien encounters with humans, discussion of climate change, lives of families and communities.
There are twenty one fantastic tales of mysteries and the strange yet all somehow and could be plausible as we realize these imaginings and the message within these bizarre yet addictive stories and encounters.
I am not one to read scifi SFF or speculative fiction, though I found this book readable and quite interesting, and definitely very intriguing none the less.


Purchase Links

About Mike Fiorito
Mike Fiorito is an Associate Editor for Mad Swirl Magazine and a regular contributor to the Red Hook Star Revue. Mike is the author of Call Me Guido published by Ovunque Siamo Press. He is also the author of Freud's Haberdashery Habits published by Alien Buddha Press. Mike lives in Brooklyn, NY with his wife and two sons. He is currently working on a novel.