Thank you to Author Kelly Oliver and TLC Book Tours for having me in this fantastic blog review tour for these two amazing books I loved and enjoyed reading so much.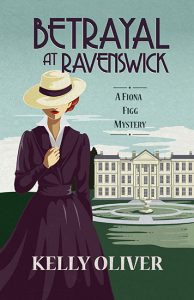 About Betrayal at Ravenswick
Publisher:

Historia (March 10, 2020)
What's the best way to purge an unfaithful husband?
Become a spy for British Intelligence, of course.
Desperate to get out of London and determined to help the war effort, Fiona Figg volunteers to go undercover. It keeps her from thinking about Andrew, her philandering husband. At Ravenswick Abbey a charming South African war correspondent has tongues wagging. His friends say he's a crack huntsman. The War Office is convinced he's a traitor. Fiona thinks he's a pompous prig. What sort of name is Fredrick Fredricks anyway? Too bad Fiona doesn't own a Wolseley pith helmet. At Ravenswick a murderer is on the prowl, and it's not just the big-game hunter who's ready to pounce.
Reader's Favorite Award for Best Historical Novel Social Media
My Thoughts:
I enjoy reading Agatha Christie and love Downton Abbey so when an opportunity came across to read this book, I was more than excited.
Kelly Oliver delivered a heroine that is such a delight to read that is brilliant, witty and a woman ahead of her time working undercover for the War Office in London during The Great War, while grieving her lost marriage to a cheating husband.
I found the writing very entertaining and so enjoyable. This was a fantastic escape read that I really enjoyed. I am happy to have the second book as this ending left me in a cliff hanger.

Purchase Links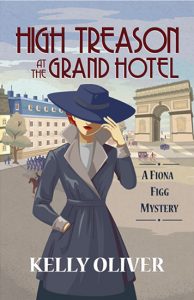 About High Treason at the Grand Hotel
• Publisher:

Historia (January 5, 2021)
• Paperback:

276 pages
Paris. 1917. Never underestimate the power of a good hat… or a sharp hatpin. Sent by the War Office to follow the notorious Black Panther, file clerk turned secret agent Fiona Figg is under strict orders not to get too close and not to wear any of her usual "get-ups." But what self-respecting British spy can resist a good disguise? Within hours of her arrival in Paris, Fiona is up to her fake eyebrows in missing maids, jewel thieves, double agents, and high treason. When Fiona is found dressed as a bellboy holding a bloody paperknife over the body of a dead countess, it's not just her career that's on the block. Her next date might be with Madame Guillotine.
MY THOUGHTS:
We continue this story just where we left off in book 1 and now have Fiona traveling to Paris to continue the surveillance of a potential German spy. Fiona takes her role being a British espionage to the max taking on disguises and getting herself into big trouble. She was sent to Paris with strict orders about using her disguises to no avail. Fiona is such a great character I just find her so amusing and entertaining. In this installment we find Fiona in trouble and deep into a jewel heist, murders and some well - known characters in history. It just keeps getting better and better.
Funny and entertaining, I cannot wait for the next in the series.


Purchase Links
About Kelly Oliver
Kelly Oliver grew up in the Northwest, Montana, Idaho, and Washington states. Her maternal grandfather was a forest ranger committed to saving the trees, and her paternal grandfather was a logger hell bent on cutting them down. On both sides, her ancestors were some of the first settlers in Northern Idaho. In her own unlikely story, Kelly went from eating a steady diet of wild game shot by her dad to becoming a vegetarian while studying philosophy and pondering animal minds. Competing with peers who'd come from private schools and posh families "back East," Kelly's working class backwoods grit has served her well. And much to her parent's surprise, she's managed to feed and cloth herself as a professional philosopher. When she's not writing mysteries, Kelly Oliver is a Distinguished Professor of Philosophy at Vanderbilt University. She earned her B.A. from Gonzaga University and her Ph.D. from Northwestern University. She is the author of
thirteen scholarly books, ten anthologies
, and over
100 articles
, including work on campus rape, reproductive technologies, women and the media, film noir, and Alfred Hitchcock. Her work has been translated into seven languages, and she has published an op-ed on loving our pets in
The New York Times
. She has been interviewed on ABC television news, the Canadian Broadcasting Network, and various radio programs. Kelly lives in Nashville with her husband, Benigno Trigo, and her furry family, Mischief and Mayhem. Find out more about Kelly at her
website
, and connect with her on
Facebook
,
Twitter
, and
Instagram
.