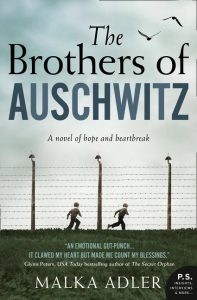 About The Brothers of Auschwitz
Paperback :

464 pages
Publisher :

One More Chapter
PUB DATE: (September 1, 2020)
An extraordinary novel of hope and heartbreak, this is a story about a family separated by the Holocaust and their harrowing journey back to each other.
There was a good orchestra at Auschwitz. I could immediately hear it was good. I almost wept for the beauty of it, but the large pile of striped pajamas stayed in my mind, and I didn't cry…
Dov and Yitzhak live in a small village in the mountains of Hungary, isolated both from the world and from the horrors of the war. But one day in 1944, everything changes. The Nazis storm the homes of the Jewish villagers and inform them they have one hour. One hour before the train will take them to Auschwitz. Six decades later, from the safety of their living rooms at home in Israel, the brothers finally break their silence to a friend who will never let their stories be forgotten.
Narrated in a poetic style reminiscent of Margaret Atwood, Malka Adler has penned a visceral yet essential read for those who have found strength, solace and above all, hope, in books like The Choice by Edith Eger and The Librarian of Auschwitz by Antonio Iturbe. Social Media

THOUGHTS/REVIEW:
The Brothers of Auschwitz was such a special book that touched my heart, my spirit and my whole being. This book was written so beautifully, in a stream-of-consciousness voice that will feel like you are hearing this story first hand as told by the brothers. Unlike other books in this time frame, this one was just a little different - the writing was clear, raw, real and so visceral.
This is one of those books that we cannot afford not to read. Reading the horrors of what the Jewish people had to go through was so harrowing. Despite all the holocaust books I have read, there is always something more that I learn about, a detail I might have missed to learn about. Each story is a life that needs to be told. The brothers' story is most especially well told - that I could not stop reading this book until i reached the very last page.
Do not miss the Author's note at the end, which I read first prior to reading the first page. It gave me the background I needed in how this story was written and the precious moments the author was able hear first hand, the brothers' stories.
Adler beautifully wrote this novel that moved and transformed me. I highly recommend this book for an amazing historical fiction read that will bring tears to your eyes and take you into a very emotional roller coaster. This is a story needed to be told.


Purchase Links

About Malka Adler
Malka Adler was born in a small village near the Sea of Galilee in northern Israel. She began her work as an author when she turned 50. After taking a creative writing course, she fell in love with the art. Malka has written six books, four of which are about the Holocaust. She obtained her undergraduate and graduate degrees in educational counselling at Bar Ilan University and is a family and couples' therapist, writer and facilitator of several reading clubs.